a small but currently very hot place in Yaletown right now, flying pig has very modern yet so rustic style when it comes to the decor and the menu
I do have to apologize for the quality of the photos since this post is solely done over my iPhone.....
menu is not very extensive
other than a page long selection, there were couple daily specials of which did not spark our interest
and as a food blogger with a stomach just enough to fit a full sized entree, we chose variety over quantity
pre-meal bread
as a bread lover, this made me very happy!
very warm and chewy which made me want to ask for seconds
(although I wasn't sure if I could)
but I had to wait for my main
beet salad
the waiter was very nice and spliced all the meal between two of us
so this is actually half of the original portion although even if we put the two together, it wasn't much
however, this is a fabulous salad!!!!!!!!!
I wasn't a big fan of beets as they can stain everything and taste like nothing
BUT! the vinegrette the walnut and the feta was a excellent combo
they made the beet complete!
my only wish was that they would trim their garden salad mix better so I don't have to fight with such fibrous greens
(but this is a fork and knife salad)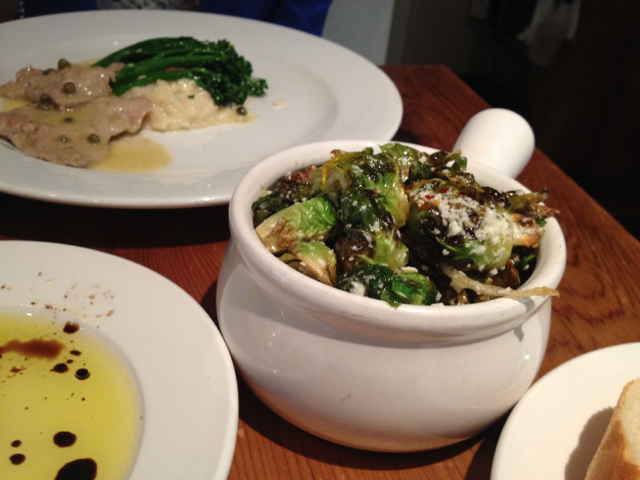 one thing that my sister insisted on ordering was brussel sprouts!
and since I knew very well that we don't like brussel sprouts, there must be something special about this one
and my sister did not fail me
somehow, oven baked combination of brussel sprouts, balsamic vinegar and parmesan ended up very addictive bowl
brussel sprouts where tender, but still had its crispness which was very well complemented by the Parmesan and balsamic
(this is a side dish and the picture is a full portion but it is enough to be shared with more than two .. I would recommend 3~4 ppl unless u really like brussel sprouts for they can be quite filling)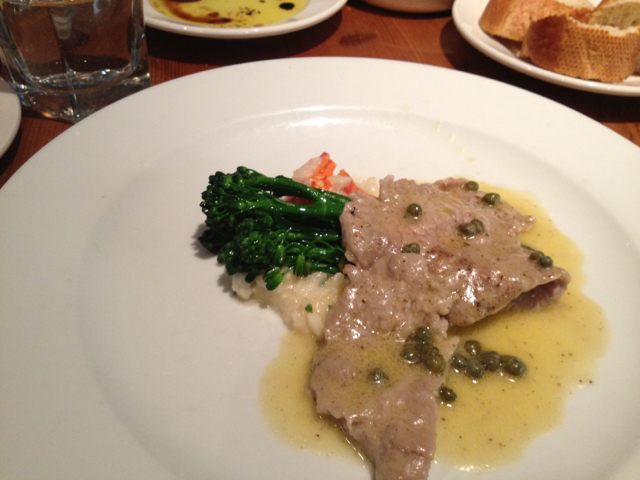 the main course we ordered was veal with peppercorn sauce
it normally comes with parmasan risotto but since we wanted to try the lobster risotto (which is one of their side menu as well) the server changed it for us with a small up charge
the portion was halved again but I thought it was perfect for me!
entree was okay..
the veal was very tender and the sauce was creamy and citrousy and same time!
the risotto was well cooked although the added lobster had seemed to lost its flavour
it was not disappointing but I guess my expectation increased with the previous two dishes
it delivered everything I expected but failed to exceed it hahahaha
if u know what I am trying to say
overall, this place is a very fab place to hang for a casual meal or something bit more formal as needed
they have quite a drink selection and a very friendly staff who are fun to talk to and are excellently trained
(they definitely deserved to be tipped!!)
although my sister who has been here in the past stated that the quality has diminished a bit and price has increased a bit
it is still a fab restaurant that I would gladly recommend